Current and upcoming exhibitions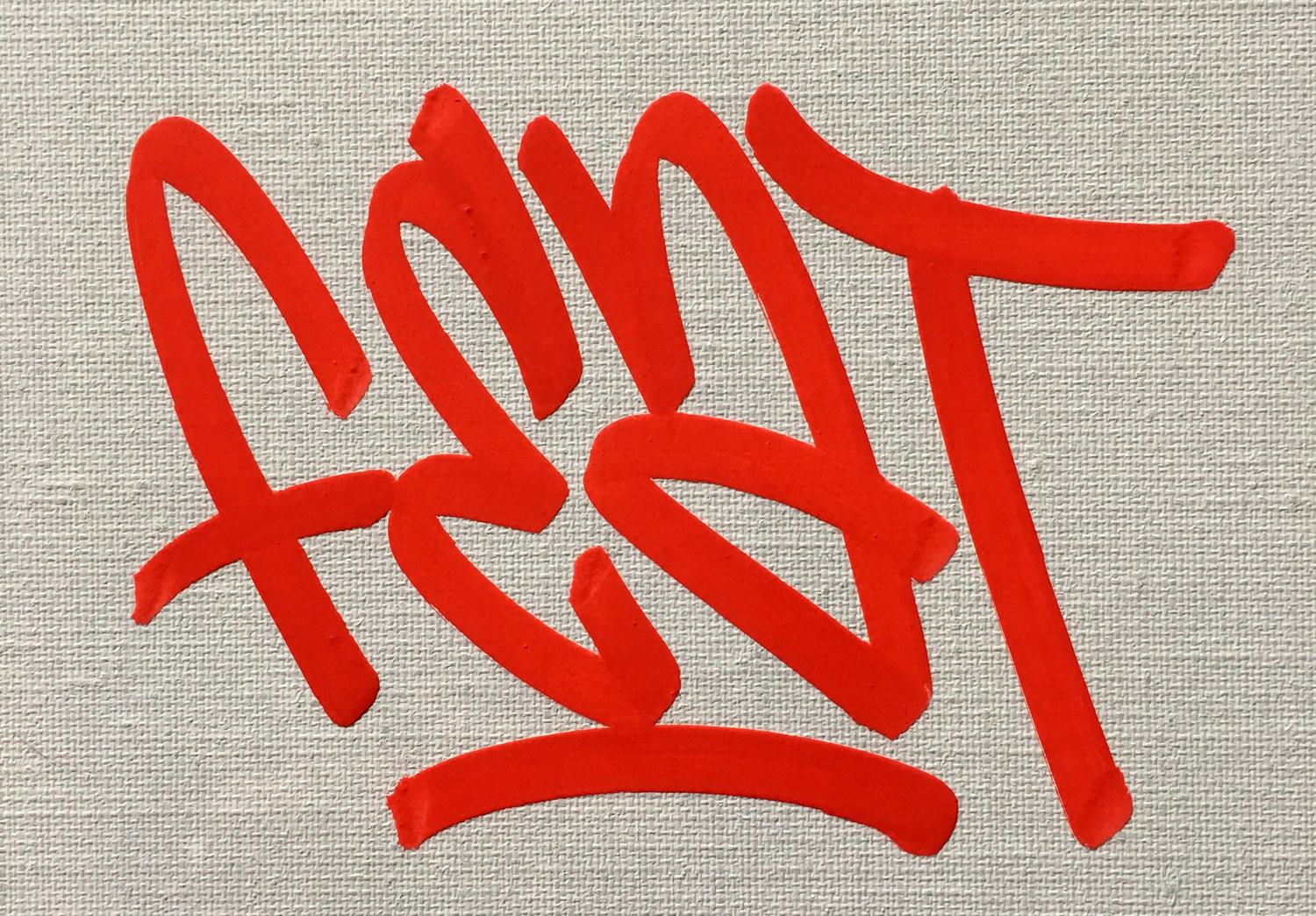 Paris – Collective exhibition

Du 28 June to  22 september 2019 at the Sakura Gallery
Opening Thursday  27 juin -start 16h to 22h
Je présenterai sur cette exposition une nouvelle collaboration avec ARDIF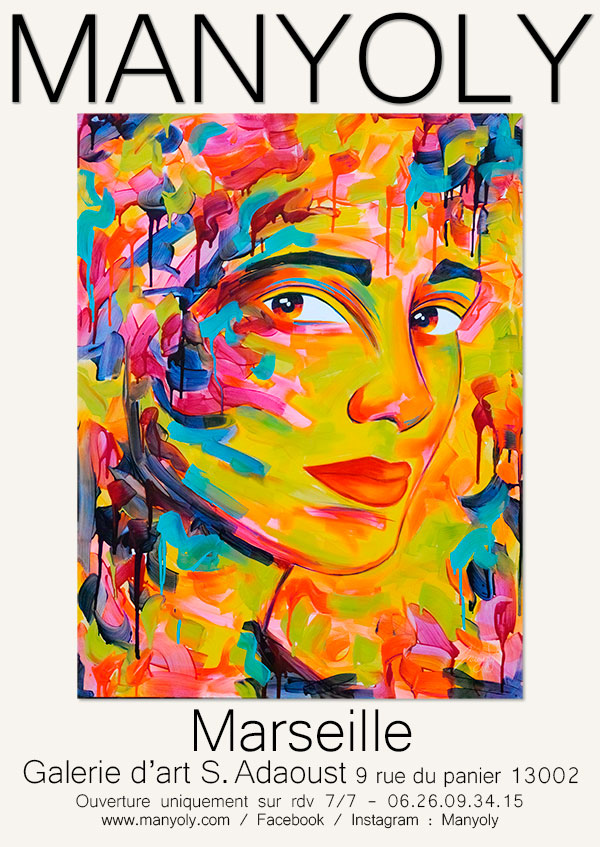 Marseille – Collective echibition
From 15 June until 29 September
je présenterai chaque semaine mes nouveaux tableaux à leur sortie de l'atelier à la Galerie Adaoust dans le quartier du Panier.Ce sera surement ma dernière exposition de l'année avant de faire une pause avant l'arrivée d'un heureux événement.
Galerie d'art Adaoust 9 rue du Panier 13002 
opening 7/7 by appointment – +33(0)626093415 
Biography
Manyoly is a self-taught artist in constant boiling. Passionate about women for years, she specialized in portraiture, in her own way, very colorful, on canvas as well as on walls. Her artistic practice led her to explore other facets of her art through writing and contemporary abstract art.
Before discovering a passion for painting she accompanied the artists' career for 8 years, through several art galleries in the south of France.
It is in 2013 that everything changes, when on a whim she goes to Singapore, then to discover Asia alone without a return ticket. Almost a year passed when she returned to France. Inspired by her trip, she decided to pay tribute to the women who came across these encounters by drawing their faces.
After a beginnings in watercolor, very quickly her painting matures and takes shape on canvas. She begins to expand her palette of techniques, and to play with more and more colors and contrasts. It's in Marseille in 2014 that everything makes sense, with street art she discovers a fabulous way to provoke unexpected encounters.
Today we can cross her portraits of woman with thousand colors on the walls of every cities where she passes, from Marseille to Paris, while passing by London, Borneo, Murcia or Berlin. In perpetual research, Manyoly continues to experiment new techniques to develop her ideas in the studio like in the street. She realizes more and more walls for festivals, collaborations or commissions, she paints most of the time in the street according with her desires, meetings and travels.
Historique des expositions et performances
– 2018
27th June – Performance – Live painting during the Panoramars event by OuiShare
June 8 – Performance on Wall in Berlin, with The Urban Nation Museum. Corner street Bulowstrasse / Frobenstrasse
From 14 to 16 June collective exhibition – Bodies – Paris (Le Marais)
Juin – Exposition collective – Well Hung Gallery – Londres
Avril  à Août – Exposition collective – Galerie Adaoust – Sanary sur mer
Février – Exposition collective – Le Lavomatik – Paris
– 2017
Décembre – Exposition collective – Well Hung Gallery – London
Décembre – Exposition collective – Intimité – Galerie d'art Adaoust – Marseille
Décembre – Exposition collective – Le Lavomatik – Paris
Novembre  – exposition collective et collaboration avec Noty & Aroz – Galerie L'oeil Ouvert -Paris
Octobre- Exposition collective et performance – L'art en Gare – Lille
Octobre – Exposition collective – Le Lavomatik – Paris
Août à Octobre – Exposition collective – Galerie Adaoust – Sanary sur mer
Juin à Août – Exposition collective d'été – Galerie Adaoust – Marseille
Mai – Perfomance sur la façade du Barbouquin – Paris
Mai – Exposition collective – Ru'elles – Paris
Mai – Festival Cultures urbaines – Perfomance sur mur – Paris
Mai – Festival De la calle al museo – Exposition et performance sur mur – Murcia – Espagne
Avril – Performance sur la façade du Point Ephémère à l'occasion d'un tournage avec M6 – Paris
– 2016
Octobre – Festival Légendes Urbaines – Performance Live painting – Aix en Provence
Octobre – Festival Trocadance – Exposition collective – Marseille
Septembre – Galerie Le Lavo//matik – exposition collective – Paris
Septembre – Artwork Festival – Performance live painting – Pertuis
Juillet – Galerie Le Lavo//matik – exposition collective – Paris
Mai – Galerie d'art Adaoust – Exposition collective permanente – Marseille
Mai – Le MUR de Marseille – Performance sur Le MUR – Marseille
Mai – Le MUR de Toulon – Performance Sur Le MUR – Toulon
Mai – Centre Gosciny – Exposition collective – Paris
Mai – Galerie Le Lavo//matik – exposition collective – Paris
Avril – L'atelier 72 – Exposition collective Keep it Glue – Marseille
Avril – Festival Keep it Glue – Performance in situ dans le quartier du cours Julien – Marseille
Février – Le Point éphémère – Performance sur la façade du Point Ephémère – Paris
Février – Radio Marais – Performance sur Le Mur de Radio Marais – Paris
– 2015
Octobre – Festival Trocadance – Exposition collective – Marseille
Septembre – 3013 – Exposition solo – Post résidence artistique – Marseille
Juillet – Août – 3013 – Résidence artistique – Marseille
Juin – Galerie Luxury Lobsers – Exposition collective Keep it Glue – Marseille
Mai – Galerie d'art Adaoust – Exposition collective permanente – Sanary sur mer Avril – Mai – Blueprint Gallery – Exposition collective Pictura – Montréal / Canada
Mars – Mai – Galerie d'art Adaoust – Exposition collective Evolution – Marseille
– 2014
Décembre – Galerie d'art Adaoust – Exposition collective permanente – Marseille
Novembre – Festival Trocadance – Exposition collective – Marseille
Novembre – Festival SMAC – Exposition collective – Toulon
Novembre à Mai 2015 – Galerie d'art Baobab – Exposition collective permanente – Sanary sur mer
Mai – Octobre – Galerie d'art Adaoust – Exposition collective permanente – Sanary sur mer
– 2013
Décembre – Festival Trocadance – Exposition collective – Marseille
Octobre à Mai 2014 – Galerie d'art Baobab – Exposition collective permanente – Sanary sur mer
Mai – Septembre – Galerie d'art Sylvie Adaoust – Exposition collective permanente – Sanary sur mer